Regular price
Sale price
$32.70 USD
Unit price
per
Sale
Sold out
Product Description:
Transform your pet's sleeping experience with our soft and cozy pet blanket.With its buttons, you can turn it into a stylish pajamas that keeps your pet warm and fashionable all year round.Whether you're snuggling up with your pet on a chilly winter night or providing relief from summer air conditioning, this cat blanket is the ultimate accessory for your furry companion.
Product Features:
Soft and cozy: Made from high-quality polyester fibers, this blanket and pajama combo for cats and dogs is soft, durable, and designed to provide ultimate comfort for your pet.
Dual-Use: Transform the blanket into a pajamas with the buttons, this dogs pajama providing extra warmth and style.
Perfect for all seasons: Whether it's a cold winter night or a hot summer day, this cats blanket and pajama combo provides your cats with the perfect sleeping environment.
Three sizes available: Choose from small, medium, and large sizes to fit your pet's needs.
Size Inform: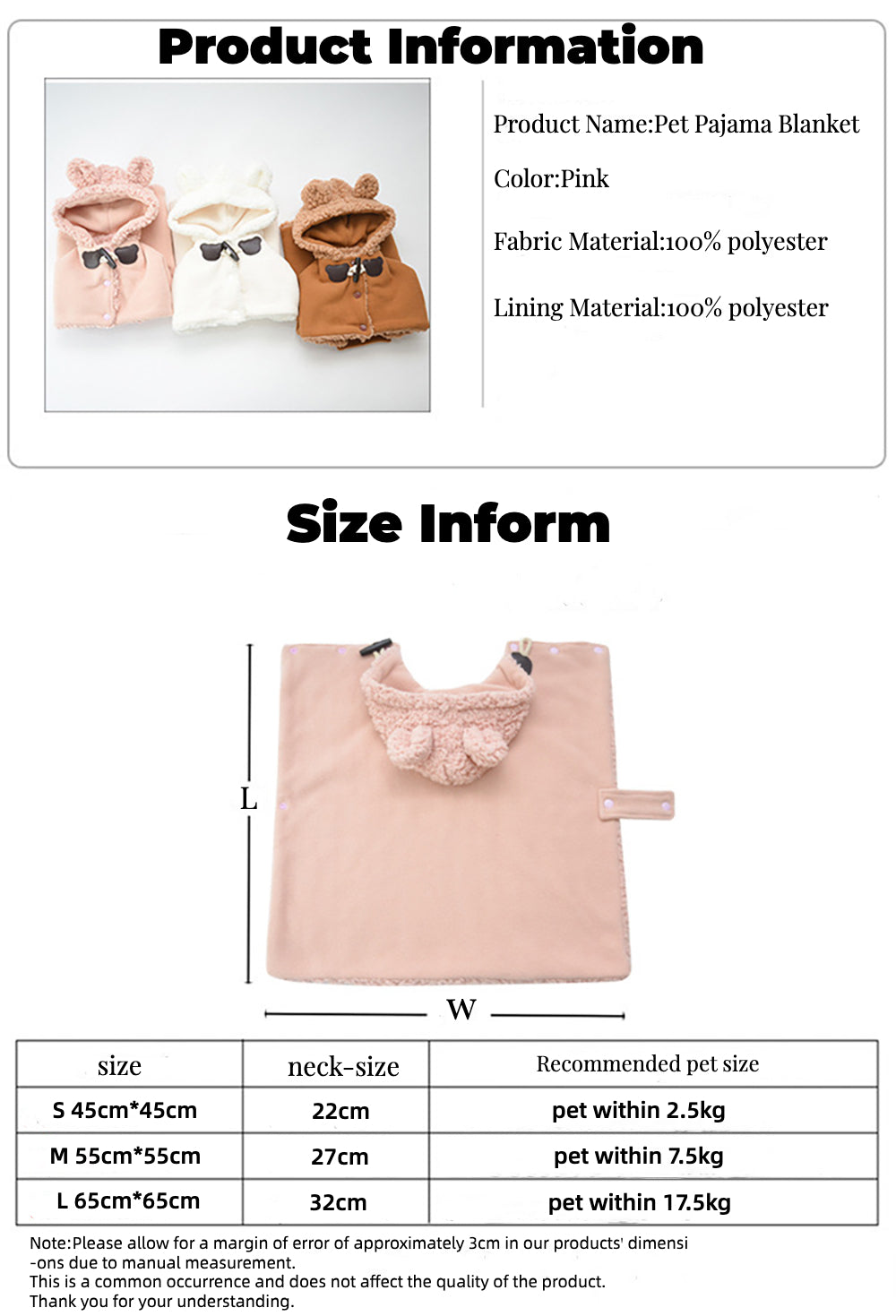 Size Parameter

-S 45*45 cm / 17.7*17.7 inch
Neck-size 22cm / 8.66 inch
-M 55*55cm / 21.65*21.65 inch
Neck-size 27cm / 10.63inch
-L 65*65cm / 25.59*25.59inch
Neck-size 32cm / 12.60 inch
Pawsome Purchase Note

Please note that colors and sizes may vary slightly due to lighting and device differences. Allow for 1-2 inches (2-3CM).1-3cm inaccuracy, and consider these factors before making your purchase. Any variations are not product quality issues. If you have any questions, please contact us. We want you and your pet to be completely satisfied with your purchase.
Caring Manual

-Please wash the product by hand using gentle cleaning liquid and warm water no hotter than 30°C.
-Machine washing, ironing, and tumble drying are not recommended for this product.
Share
View full details
Frequently Asked Questions about Fluffy Blanket for Cats and Dogs
How can the Cats Sleeping Blanket benefit my cat?

The Cats Sleeping Blanket and Pajama Combo provides a cozy and comfortable sleeping environment for your cat. The soft blanket offers warmth and security, while the pajama ensures your cat stays comfortable throughout the night. This combo is designed to enhance your cat's sleep quality, reduce anxiety, and promote relaxation.
How can the Cats Pajama help with my cat's anxiety?

The Cats Sleeping Blanket and Pajama Combo can help alleviate anxiety in cats. The soft and plush materials used in the blanket and pajama create a soothing environment that promotes feelings of security and comfort. Additionally, the gentle pressure provided by the snug-fitting pajama can have a calming effect on cats, helping to reduce anxiety and stress. It's a great solution for cats that experience anxiety during thunderstorms, fireworks, or other stressful situations.
Can Dogs Pajama be worn outside?

Dogs Pajama is primarily designed for indoor use, particularly for providing comfort and better sleep. However, some pet owners choose to let their dogs wear the pajamas outside during chilly weather to keep them warm. Just ensure that your dog is supervised and the pajamas are not restrictive or uncomfortable for outdoor activities.