Regular price
$109.99 USD
Regular price
$199.99 USD
Sale price
$109.99 USD
Unit price
per
Sale
Sold out
Product Features:
【Multi-Level Fun】:The perches offer different vantage points for your cats to relax, observe their surroundings, and enjoy the view from various heights. The two cozy cat condos provide privacy and security, serving as perfect hideouts for your cats to rest undisturbed. The hammock allowing your cats to snuggle up in comfort.
【Sisal-Wrapped Scratching Posts】:The sisal material is tough enough to withstand vigorous scratching, saving your furniture and carpets from potential damage. This feature also helps maintain your cats' claws, promoting their overall health and well-being.
【Entertaining Hanging Balls】: The dangling balls encourage them to engage in playful swatting and batting, providing both physical exercise and mental enrichment.
【Sturdy and Safe】: This pink cat tower is designed with stability in mind. The 69-inch height ensures that the cat tree stands tall and remains firmly in place even during active play. The solid construction of the perches, cat condos, and baskets ensures that they can support up to 11 lbs each.
【Suitable for Multiple Cats】:The multi-level design, combined with various interactive elements, allows multiple cats to share the space comfortably, fostering a sense of companionship and camaraderie.
Product Size: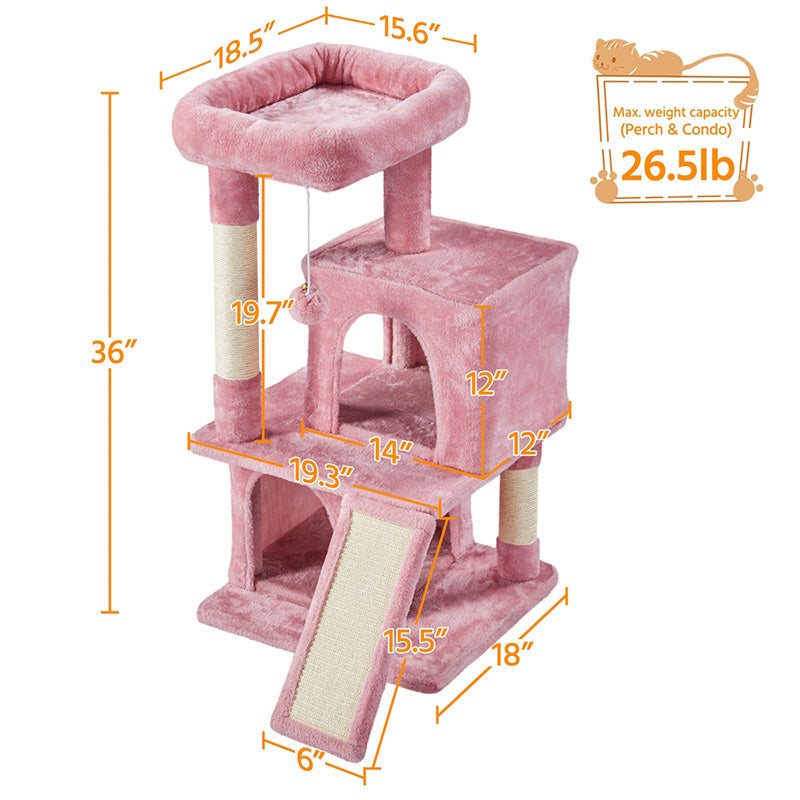 Material

Particleboard, Plush, Sisal Rope, Plastic
Size Parameter

●Large Size:
Overall Dimensions: 22'' L × 22'' W × 69'' H
Diameter of the Basket:14.4''
Scratching Board:19'' L × 6'' W
Condo: 14'' L × 14''W × 12'' H
Maximum Weight Capacity:
Basket:11 lb
Perch:11 lb
Condo: 11 lb
●Small Size
Overall Dimensions: 19.3'' L x 18'' W x 36" H
Condos : 14'' L x 12'' W x 12" H
Scratching board size: 15.5'' L x 6'' W x 1" H
Max. Weight capacity
Perch : 26.5lb
Condos : 26.5lb
Pawsome Purchase Note

Please note that colors and sizes may vary slightly due to lighting and device differences. Allow for 1-2 inches (2-3CM).1-3cm inaccuracy, and consider these factors before making your purchase. Any variations are not product quality issues. If you have any questions, please contact us. We want you and your pet to be completely satisfied with your purchase.
Caring Manual

Given its size and weight capacity, it is not recommended for use by large-sized cats.
Share
View full details
Frequently Asked Questions about Multi-Level Cat Tower
How can I prevent my cat from scratching furniture instead of the cat tree?

Cat trees with sisal-wrapped scratching posts, like this pink barbie style cat tree, provide the perfect solution. Cats are naturally drawn to sisal material, and these posts offer an enticing alternative to your furniture. Place the cat tree near the furniture your cat usually scratches, and encourage them to use the scratching posts with positive reinforcement and treats.
Why should I get a cat tree for my cat?

Cat trees provide a dedicated space for your cat to play, exercise, and satisfy their natural instincts to scratch and climb. It also offers them a cozy spot to rest and observe their surroundings, promoting a happy and healthy lifestyle.
My cat doesn't like their cat tree. What can I do?

Cats may need time to adjust to a new cat tree. Place it in a strategic location, such as near a window or in a quiet corner, and sprinkle catnip to entice them. Play with your cat around the tree to create positive associations.
A Great Cat Tree for the Price!