Regular price
Sale price
$24.90 USD
Unit price
per
Sale
Sold out
Product Features:
【Interactive and Engaging】The interactive cat chew toy are designed to keep your cats entertained and engaged for hours. The spring design of the cat sound-chew toy provides a playful and interactive experience, preventing cats from chewing on actual data cables.The sound feature stimulates your cat's curiosity and playful instincts, providing endless amusement.
【Safe Play】 The cat catnip toy with shoes-shaped is designed to prevent choking hazards, ensuring that your cat can enjoy the toy without any risks. It emits a chirping sound when touched, enticing your cat to play and explore.
【Stimulating Treat Dispenser】The cat chew toy paper box-shaped treat dispenser combines play and mealtime. Made from soft PV plush and infused with catnip, it encourages your cat to interact and play while enjoying a treat. The added sound-making crinkle paper creates an extra level of excitement.
【Durable and Non-shedding】We understand the importance of a durable toy that can withstand your cat's enthusiastic chewing. This interactive cat chew toy with catnip is made from high-quality materials, including non-shedding PV plush, ensuring long-lasting fun without leaving any mess.
 Product Size: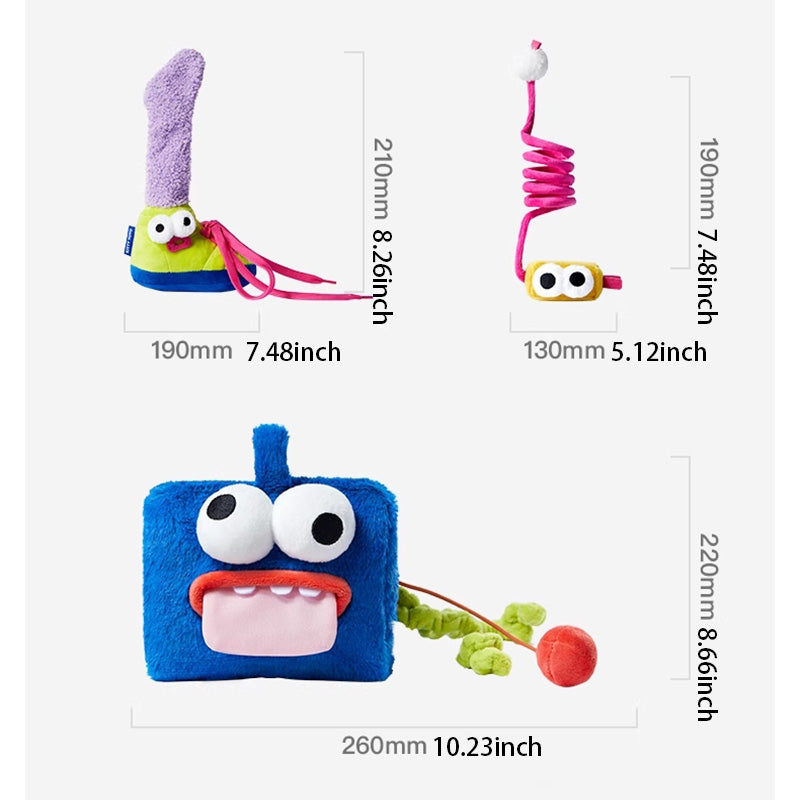 M

aintenance & Cleaning Tips:
Gently wipe the toy with a non-dripping cloth.
Use a disinfectant spray for cleaning.
Avoid getting the plush toy's interior wet.
Material

PP Cotton, Crystal Velvet, Pv Plush
Size Parameter

Style|Size (L*W inch)
Charger 5.12*7.48
Paper Box 10.23*8.66
Boot 7.48*8.26
Pawsome Purchase Note

Please note that colors and sizes may vary slightly due to lighting and device differences. Allow for 1-2 inches (2-3CM).1-3cm inaccuracy, and consider these factors before making your purchase. Any variations are not product quality issues. If you have any questions, please contact us. We want you and your pet to be completely satisfied with your purchase.
Caring Manual

●Gently wipe the toy with a non-dripping cloth.
●Use a disinfectant spray for cleaning.
●Avoid getting the plush toy's interior wet.
Share
View full details
Frequently Asked Questions about Cat Chew Toy with Catnip
Can the cat chew toy help reduce my cat's chewing on actual cables?

Yes! The spring design of the toy provides a playful and satisfying chewing experience for your cat, helping to divert their attention from real cables. By engaging their natural instincts, the toy can help discourage unwanted chewing behavior.
How do I clean the cat chew toy?

Cleaning the toy is easy. Simply wipe it gently with a non-dripping cloth to remove any dirt or debris. Avoid submerging the toy in water, as the plush interior should not get wet. For added cleanliness, you can also use a disinfectant spray.
Will the sound from the toy be too loud and scare my cat?

Not at all. The toy is designed to produce gentle and enticing sounds that stimulate your cat's curiosity and playfulness. The sound level is specifically calibrated to be enjoyable for cats without causing discomfort or fear.
A game changer for bored cats
I was struggling to find a toy that would keep my bored cat entertained, but this interactive toy has been a game changer! The shoe design and engaging sounds immediately caught my cat's attention. It's fascinating to watch her play and pounce on it. This toy has effectively alleviated her boredom and saved my furniture from destructive behaviors. Highly recommended!
Hours of fun and stimulation
This cat toy has become an absolute favorite in our household. The combination of the boot shape and enticing sound is pure magic. Our cat goes wild playing with it, and we can see how it stimulates her mentally and physically. It's great to have a toy that offers both fun and exercise. A must-have for any cat owner!