Regular price
$55.98 USD
Sale price
$48.89 USD
Unit price
per
Sale
Sold out
 Product Features:
Full-frame design: The dog windproof goggles come with a full-frame that provides complete coverage and protection to your pet's eyes.
UV protection: This goggles & sunglasses for large dogs come with a UV-resistant lens that shields your dog's eyes from harmful UV rays.
Windproof: The large dogs goggles feature a windproof design that keeps your dog's eyes safe from strong winds, debris, and dust.
Waterproof: The dogs sunglasses are made of high-quality waterproof material that protects your pet's eyes from water damage.
Adjustable strap: The strap of the goggles is adjustable, making it easy to fit the goggles to your pet's head comfortably.
Stylish design: The dog anti-dust goggles have a stylish design that adds a touch of fashion to your pet's look.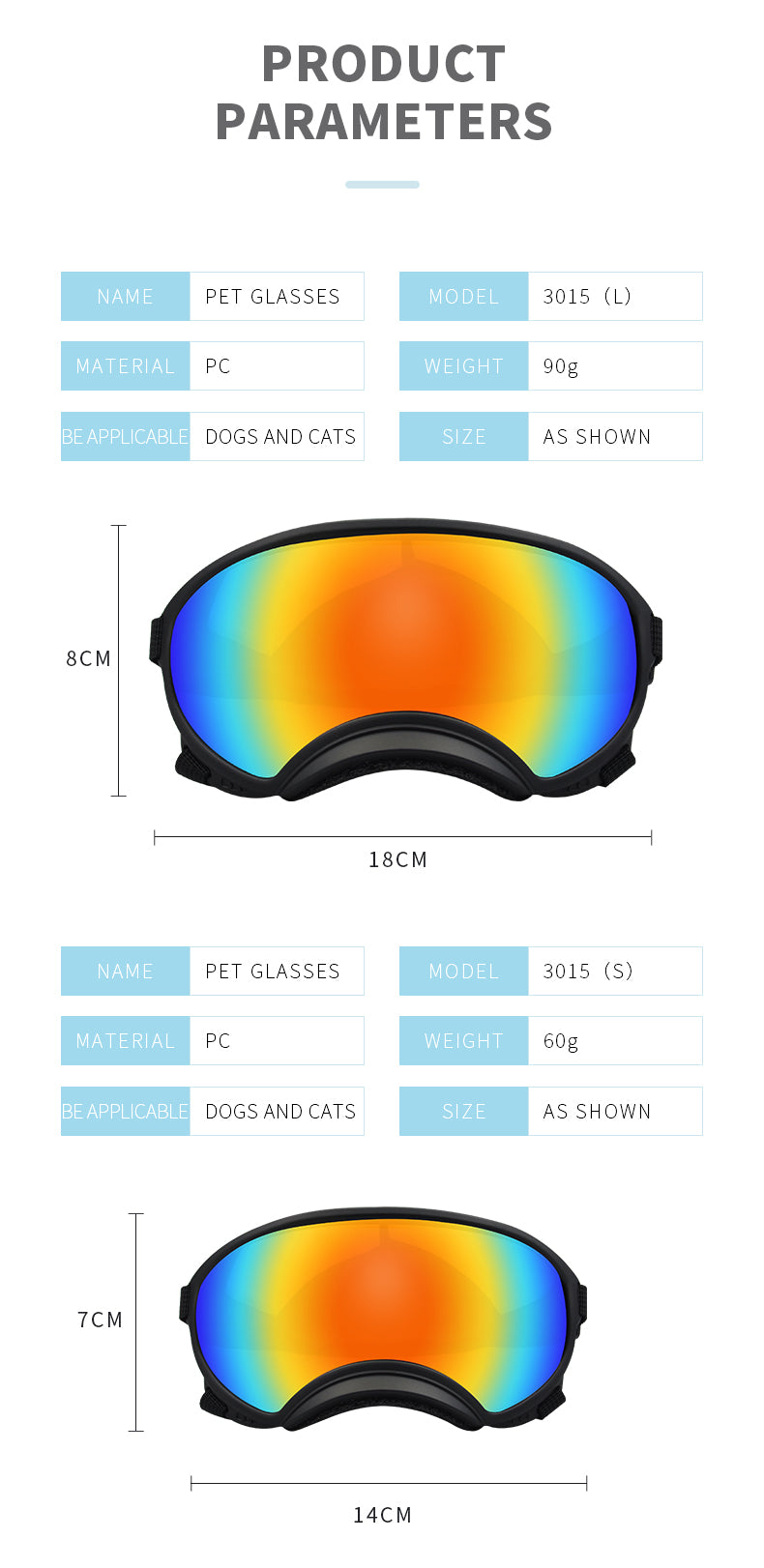 Size Parameter

●Size:18cm*8cm/14cm*7cm
●Weight:90g/60g
●FrameColor:Pink
●LenColor:Red/Blue/Transparent/Silver

Pawsome Purchase Note

Please note that colors and sizes may vary slightly due to lighting and device differences. Allow for 1-2 inches (2-3CM).1-3cm inaccuracy, and consider these factors before making your purchase. Any variations are not product quality issues. If you have any questions, please contact us. We want you and your pet to be completely satisfied with your purchase.
Caring Manual

●Clean the lenses of the goggles with a soft, dry cloth to prevent scratches and ensure clear vision.
●Avoid using harsh chemicals or hot water to clean the goggles as this may damage the lenses or frame.
Share
View full details
Frequently Asked Questions about Dog Goggles
Why should I buy dog goggles for my dog?

Dog goggles, also known as doggles, provide eye protection for your dog. They are particularly useful in outdoor activities like hiking or cycling, where dogs are exposed to potential eye irritants such as dust, wind, or UV rays. By using dog goggles, you can help prevent eye injuries and keep your dog's vision safe and comfortable.
How can I protect my dogs eyes?

To protect your dog's eyes, here are some important measures you can take:

1. Avoid direct exposure to sunlight: Just like humans, dogs can suffer from UV damage to their eyes. Limit your dog's exposure to direct sunlight, especially during the peak hours when the sun is strongest. If your dog spends a lot of time outdoors, consider using dog sunglasses specifically designed to block harmful UV rays.

2. Provide shade and shelter: Ensure that your dog has access to shaded areas or a sheltered spot where they can rest and relax without direct sunlight. This helps reduce the risk of sunburn and eye strain caused by prolonged sun exposure.

3. Use dog-friendly eye protection: Dog goggles are a great way to protect your pet's eyes from UV rays, dust, wind, and debris. Look for sunglasses that provide a comfortable fit, have UV protection, and are made from durable materials. Introduce the sunglasses gradually to allow your dog to get used to wearing them.

4. Keep chemicals and irritants away: Chemicals such as cleaning products, pesticides, and certain plants can cause eye irritation or damage. Be cautious about the products you use around your dog, and keep them away from potential hazards. If you suspect any exposure to irritants, rinse your dog's eyes gently with clean water and consult a veterinarian if needed.

5. Regular grooming and eye care: Keep your dog's facial hair trimmed to prevent it from poking or irritating their eyes. Additionally, regularly check your dog's eyes for signs of redness, discharge, or any abnormalities. If you notice any issues, consult your veterinarian for proper diagnosis and treatment.

Remember, protecting your dog's eyes is crucial for their overall well-being and vision health. By taking these precautions and providing proper eye care, you can help ensure that your furry friend enjoys good eye health throughout their life.
Can dogs see better with goggles?

In bright conditions, goggles with tinted lenses can reduce glare, allowing dogs to see more clearly and comfortably. They are especially helpful for dogs with specific eye conditions, sensitivity, or recent eye surgeries. It's important to introduce goggles gradually to dogs, using positive reinforcement and treats to associate them with a positive experience.