Regular price
$78.43 USD
Sale price
$64.99 USD
Unit price
per
Sale
Sold out
 Product description:
The best dog magnetic goggles with full frame protection, designed to shield your pet's eyes from wind, dust, and UV rays. The magnetic design makes them easy to put on and take off, while the adjustable strap ensures a comfortable and secure fit. These goggles are waterproof and anti-dust, making them perfect for any weather condition. Keep your furry friend safe and stylish with these must-have accessories!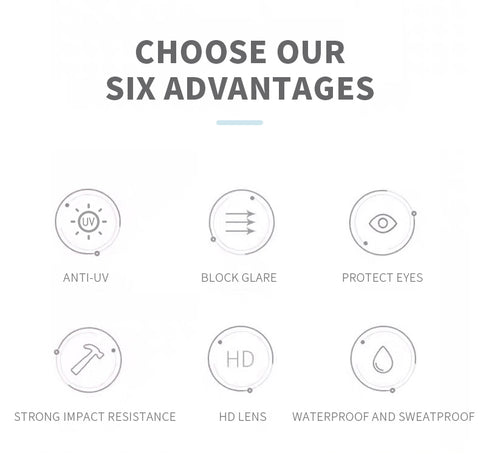 Product features:
Magnetic design: The dog ski goggles feature a magnetic design that makes them easy to put on and take off. The magnets are strong enough to hold the goggles securely in place during use.
Full frame protection: The best dog goggles provide full-frame protection for your dog's eyes, helping to shield them from wind, dust, and debris. The lenses are also UV-resistant, protecting your dog's eyes from harmful UV rays.
Comfortable fit: The dog sunglasses are designed to fit comfortably on your dog's head, with soft padding around the edges to prevent any discomfort or irritation.
Adjustable strap: The strap on the windproof dog goggles is adjustable, allowing you to find the perfect fit for your dog's head. The strap is also made from high-quality materials, ensuring that it won't break or wear out over time.
Waterproof and anti-dust: The best dog goggles are designed to be waterproof and anti-dust, so your pet can wear them in a variety of different weather conditions.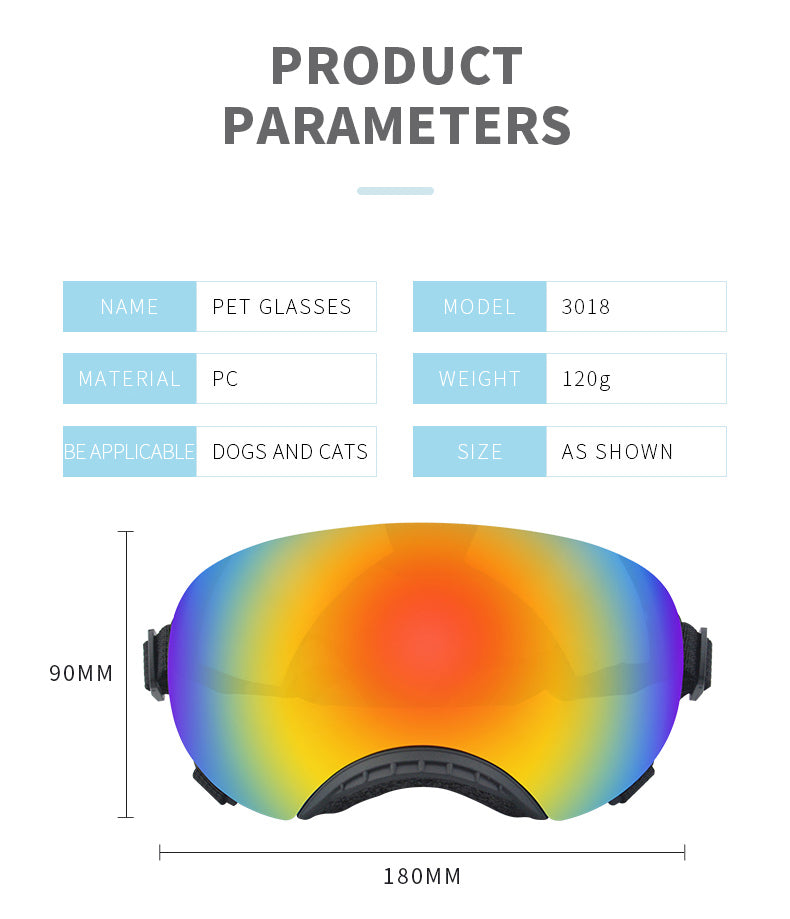 Size Parameter

●Size:180mm*90mm
●Weight:120g
●FrameColor:Pink
●LenColor:Blue/Red/Grey/Silver/Transparent
Pawsome Purchase Note

Please note that colors and sizes may vary slightly due to lighting and device differences. Allow for 1-2 inches (2-3CM).1-3cm inaccuracy, and consider these factors before making your purchase. Any variations are not product quality issues. If you have any questions, please contact us. We want you and your pet to be completely satisfied with your purchase.
Caring Manual

●Clean the lenses of the goggles with a soft, dry cloth to prevent scratches and ensure clear vision.
●Avoid using harsh chemicals or hot water to clean the goggles as this may damage the lenses or frame.
Share
View full details
Frequently Asked Questions about Dog Goggles
How can dog goggles protect my pet's eyes?

Dog goggles, also known as doggie sunglasses or doggy eyewear, provide essential eye protection for your furry friend. They shield your dog's eyes from harmful UV rays, dust, debris, wind, and other potential hazards. The goggles are specifically designed to fit comfortably on dogs, offering optimal eye safety during outdoor activities or when traveling in open vehicles. The lenses are made of high-quality materials that provide clear vision while blocking out harmful elements.
Can dog goggles help with eye conditions or sensitivities?

Dog goggles can be beneficial for dogs with eye conditions or sensitivities. The goggles provide a barrier against irritants such as dust, pollen, and grass, which can trigger allergic reactions or worsen existing eye conditions.
How do I introduce my dog to wearing goggles for the first time?

It's important to introduce your dog to the goggles gradually. Start by letting them sniff and inspect the goggles before gently placing them on their face. Reward your dog with treats and positive reinforcement, gradually increasing the duration of wear. With patience and consistency, most dogs adapt well to wearing goggles.