Regular price
$99.40 USD
Sale price
$75.74 USD
Unit price
per
Sale
Sold out
Product Features:

Two-in-One Design: The Rainbow Cloud Cat Tunnel is a combination of a rainbow cat tunnel and a detachable cloud-shaped cushion, providing both playtime and rest time for your cat.
Colorful and Playful: A rainbow shape and the cushion is in a cloud shape, making the tunnel cat bed a visually appealing and fun addition to your pet's play area.
High-Quality Material: The cushion is filled with premium fiber cotton, ensuring maximum comfort for your cat.
Removable:The tunnel cat bed with cushion is easily detachable by zipper, making it easy to maintain.
Hanging Toy: The cat tunnel bed with cushion features a hanging toy at the entrance, providing an extra element of play and stimulation for your cat
Collapsible and Portable:The cat tunnel bed can be collapsed and folded down for easy storage and transport.
Product Size: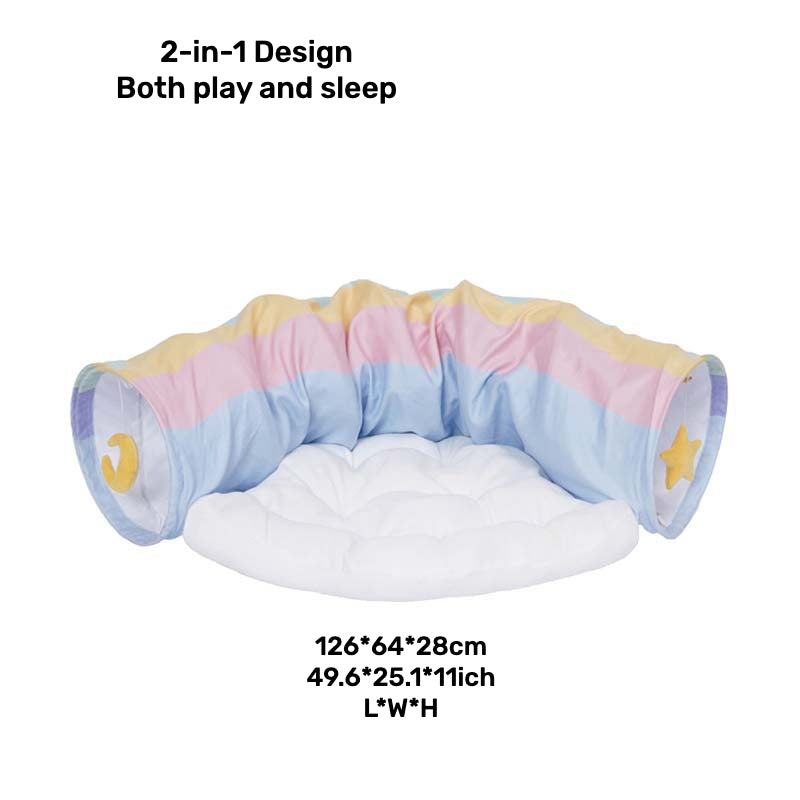 Size Parameter

Size: 126*64*28cm/49.6*25.1*11inch (L*W*D)
Pawsome Purchase Note

Please note that colors and sizes may vary slightly due to lighting and device differences. Allow for 1-2 inches (2-3CM).1-3cm inaccuracy, and consider these factors before making your purchase. Any variations are not product quality issues. If you have any questions, please contact us. We want you and your pet to be completely satisfied with your purchase.
Caring Manual

We do not recommend washing the tunnel, but you can clean it with a damp cloth.
For the soft mat, we suggest hand washing it with water that is no hotter than 30℃ and then air-drying it in the shade. Please refrain from ironing the mat or putting it in a dryer.
Share
View full details
Frequently Asked Questions About Cats Tunnel Bed
How does the cat tunnel bed promote play and exercise for my cat?

The cat tunnel bed stimulates your cat's natural instincts by providing an interactive play environment. It features built-in dangling toys and crinkly textures, enticing your cat to engage in playful activities. The tunnel design encourages running, pouncing, and exploring, promoting physical exercise and mental stimulation. Regular play sessions with the cat tunnel bed can help prevent boredom and keep your cat active and entertained.
How can a cat tunnel bed benefit my cat's health and well-being?

A cat tunnel bed provides a cozy and secure space for your cat to relax and sleep, which can help reduce stress and anxiety. It encourages natural behaviors like hiding, exploring, and playing, which contribute to a healthier and happier cat. The soft and comfortable materials used in the bed also provide support for joints and muscles, promoting better sleep and overall physical well-being.
How can I encourage my shy cat to use the tunnel bed?

Patience and positive reinforcement are key. Place your cat's favorite toys or treats inside the tunnel to entice them to explore. Leave the bed in a quiet area where your cat feels safe, and gradually introduce them to the tunnel with gentle playtime and treats.