Regular price
Sale price
$34.50 USD
Unit price
per
Sale
Sold out
Product Features:
【🦮Explosive-Proof Design】This no pull slip lead leash for dogs boasts an eye-catching pink color that complements your pet's vibrant personality, making it a stylish accessory during your outings.
【🦮CNC Precision Stainless Steel Lock】Crafted with high precision using CNC technology, the dog slip lead leash with the stainless steel lock ensures a secure and reliable connection, allowing you to adjust the leash freely as per your specific needs.
【🦮2 x 2 Diamond Interweaving Technique】With an impressive elasticity recovery rate of 99% when stretched between 3-6%, the dog slip lead leash ensures flexibility while maintaining its shape and avoiding any possibility of breakage, even after thousands of uses.
【🦮Breathable and Comfortable】We understand your pet's comfort is crucial, which is why this no pull slip lead leash features a breathable design with up to 80% breathability, ensuring your dog remains comfortable during walks or activities.
【🦮Reflective Strips for Night Safety】Equipped with strategically placed 3D reflective strips, this training dog leash enhances visibility during nighttime walks, ensuring the safety of both you and your four-legged companion.
Product Size: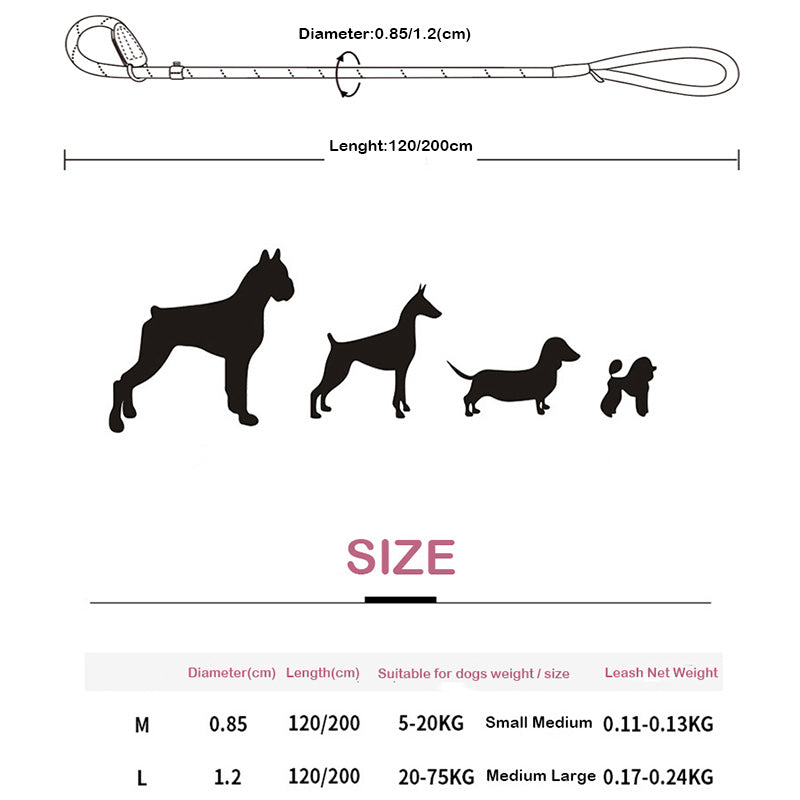 Material

High-Density Polyamide Fiber,CNC Precision Stainless Steel, Cowhide,
Size Parameter

Size:
M - Wide(Diameter 1.2cm Length 120cm)
L - Wide(Diameter 1.2cm Length 200cm)
M - Thin(Diameter 0.85cm Length 120cm)
L - Thin(Diameter 0.85cm Length 200cm)
Pawsome Purchase Note

Please note that colors and sizes may vary slightly due to lighting and device differences. Allow for 1-2 inches (2-3CM).1-3cm inaccuracy, and consider these factors before making your purchase. Any variations are not product quality issues. If you have any questions, please contact us. We want you and your pet to be completely satisfied with your purchase.
Caring Manual

●Avoid near excessive heat
●Do not use chemical detergent to clean
Share
View full details
Frequently Asked Questions about Dog Slip Lead Leash
What is a dog slip lead leash, and how does it work?

A dog slip lead leash is a versatile leash that combines a collar and leash into one. It works by creating a loop that slips over your dog's head, allowing you to control their movements without the need for a separate collar. It's easy to use and provides a secure and adjustable fit for your dog.
Can the dog slip lead leash help with leash pulling and training?

Absolutely! The dog slip lead leash is an excellent tool for leash training and addressing leash pulling issues. Its design provides gentle control and helps discourage pulling behavior by applying slight pressure around the neck area when the dog tries to pull. However, it's important to remember that proper training techniques and positive reinforcement are also key components for successful leash training.
What is the difference between a slip lead and a leash?

A slip lead and a leash serve similar purposes but have some key differences. Here's a breakdown of the main differences between the two:

1. Design: A slip lead is designed as an all-in-one collar and leash combination. It features a loop at one end that slips over the dog's head, forming a collar, and a leash attached to the other end. On the other hand, a leash is a standalone item that attaches to a separate collar or harness worn by the dog.

2. Ease of Use: Slip leads are generally considered easier to use compared to a leash with a separate collar or harness. With a slip lead, you can quickly slip it over the dog's head without the need for additional attachments. Leashes, on the other hand, require a separate collar or harness to be securely attached to the dog before use.

3. Control: Slip leads offer more immediate control over a dog's movements. The loop design tightens slightly when the dog pulls, providing gentle correction and preventing the dog from slipping out. Leashes, when attached to a collar or harness, provide control through the handler's grip and the attachment point on the dog's collar or harness.

4. Training Applications: Slip leads are commonly used in training exercises, especially for obedience training and correcting certain behaviors. The design allows for quick and gentle corrections, making it useful for teaching commands and reinforcing good behavior. Leashes can also be used for training purposes but may require additional training aids or techniques.

5. Personal Preference: The choice between a slip lead and a leash often comes down to personal preference and the specific needs of the dog and handler. Some handlers prefer the convenience and simplicity of a slip lead, while others prefer the flexibility of using different collars or harnesses with a leash.

It's important to note that both slip leads and leashes should be used responsibly and with the dog's safety and comfort in mind. Proper training, fitting, and supervision are crucial regardless of the choice made.